When the Oechsle Center for Global Education opens for classes next spring, students will find a three-story, state-of-the-art facility themed around interdisciplinary global studies.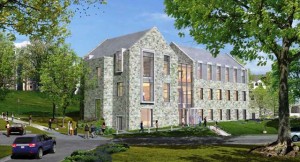 "Global education should be an integral part of any Lafayette student's education, regardless of major," says David Stifel, associate professor of economics and chair of international affairs. "Being exposed to different disciplines across different cultures and different systems makes us all much more critical thinkers."
Located along South College Drive south of Pardee Hall, the Oechsle Center will house the international affairs and Africana studies programs and the Anthropology and Sociology Department. It will feature a 60-seat lecture hall, two 40-seat classrooms, and a conference room with videoconferencing capabilities. There also will be a common room designed to be a comfortable space where students and faculty can chat and do work, and a flexible space that can be used for computing as well as open up entirely for receptions.
While there already is robust support at the College for interdepartmental collaboration, having a physical space that unites these interdisciplinary programs will facilitate further collaboration, says Stifel. The center also will provide a shared space for formal and informal events.
The center is being made possible by the support of Walter Oechsle '57 and his wife, the late Christa Huber Oechsle. Walter Oechsle is an emeritus trustee and retired managing general partner of Oechsle International Advisors in Boston. The cost of the project will be approximately $10 million.
The Oechsle Center joins innovative facilities and programs like the Grossman House for Global Perspectives, a special residence of 25 students interested in topics related to globalization; the Common Course of Study, which includes global and multicultural competencies for all students; dynamic Living Learning Communities, many of which have global/multicultural themes; and both long-term and short-term study abroad opportunities.
A critical component of global education, says Stifel, is exposure. For example, he advises the Lafayette Initiative for Malagasy Education (LIME), a peer-to-peer mentoring program between Lafayette students and high school students from Madagascar to prepare the latter for the process of applying to colleges in the U.S. The program benefits both sets of students.
http://news.lafayette.edu/2014/04/21/oechsle-center-models-colleges-commitment-to-global-education/