Lafayette is poised to become a national leader among liberal arts colleges in the area of digital scholarship thanks to a four-year, $700,000 grant from The Andrew W. Mellon Foundation. The grant will support the training of faculty and students in digital humanities methods, fostering collaborative projects, and integrating the digital humanities further into the curriculum.
The grant corresponds with the beginning of Alison Byerly's tenure as the College's 17th president. A leading voice nationally on emerging forms of digital scholarship, the changing role of the humanities in the digital age, the importance of curricular innovation, and MOOCs (massively open online courses), Byerly has lectured widely on these topics at the Modern Language Association convention, the annual AAC&U convention, the Massachusetts Institute of Technology (MIT) Communications Forum, and other venues. Her essays have appeared in The Chronicle of Higher Education and Inside Higher Ed.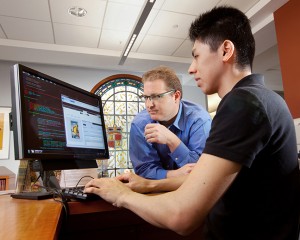 "The Mellon Foundation's support of this initiative could not be more timely," says Byerly. "Lafayette will have the opportunity to take a leading role in important conversations about the ways in which technology can expand and enhance scholarship and teaching in the humanities."
The grant will help the College build on the innovative work it has been doing for years. For instance, programs like EXCEL Scholars undergraduate research will be enhanced, allowing more students majoring in the humanities and social sciences to engage in high-level collaborations with faculty. Many EXCEL projects result in conference presentations and peer-reviewed journal publications.
Faculty will increase their understanding of, use, and further development of the digital humanities through workshops, guest lecturers, and research and conference travel. Also, the grant will help recruit, through the Council on Library and Information Resources, a post-doctoral fellow who will bring expertise to Lafayette as well as collaborate with colleagues at other institutions.
"This major initiative has the potential to have an impact both on how faculty teach, and the ways in which students engage with and explore critical topics in the liberal arts," says project director Wendy Hill, provost and dean of the faculty. "The use of digital methods also opens up new avenues of research—questions can be asked that were previously either impossible to answer or required such an inordinate amount of time to even gain a glimmer of insight that they were not pursued. There is palpable excitement about the impact of these approaches that will enhance connections and collaborations in our teaching and learning as well as our scholarly pursuits."
As one of just three liberal arts colleges among the 70 members of the Digital Library Foundation (DLF), Lafayette will develop an institutional model that can succeed in the liberal arts environment. Skillman Library is organizing a day-long forum for representatives from about 18 liberal arts colleges and research universities to identify the requirements for sustainable management of digital scholarship in conjunction with the DLF's annual meeting this fall in Austin, Texas.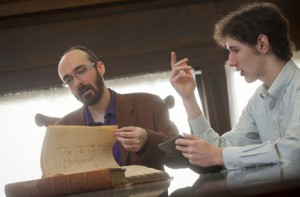 The library's Digital Scholarship Services (DSS) will be especially critical to the project. Since 2005, Eric Luhrs, head of digital scholarship services, has helped the library become a leader among liberal arts colleges in developing the infrastructure to support digital humanities and the way that it gives scholars in the humanities an opportunity to teach by engaging students in their research. The project will also partly support the recruitment of a geographic information systems and data visualization librarian to assist with faculty and student research.
"For years, it has been part of the library's strategic vision to engage faculty and students more intensively in the digital humanities," says project leader Neil McElroy, dean of libraries. "We are delighted that the Mellon Foundation is supporting our aspiration to advance innovative scholarship in liberal arts colleges, to unify research and teaching, and to share the lessons of our success with the growing international community of digital humanities practitioners."
Among the digital humanities practitioners at Lafayette is Christopher Phillips, assistant professor of English, who is chair of the digital humanities steering committee. He has been collaborating with Luhrs to create a relational database of lending records from the Easton Library Company to analyze 19th century reading patterns. Some of Phillips' most intensive learning as a professor has involved digital scholarship, and it is the type of learning he is eager to share with students and colleagues both at Lafayette and at other institutions.
DSS also has worked with:
Paul Barclay, associate professor and assistant head of history, to develop the East Asia Image Collection;
James Woolley, Smith professor and associate head of English, to edit the works of Jonathan Swift with the Swift Poetry Project, which is supported by a grant from the National Endowment for the Humanities;
Ingrid Furniss, assistant professor of art, to create the Silk Road Instrument Database;
Wendy Wilson-Fall, associate professor and chair of Africana studies, to track the arrival of Malagasy slaves in and around Williamsburg before and during the American Civil War.
More faculty have projects in various stages of development.
"Lafayette has already proven itself as a community willing to push its own limits, to excel in new ventures that are designed to be enhancements meaningful to a Lafayette education as well as to the world that our students and alumni continue to change," says Phillips. "A colleague has described a Lafayette education as one that prepares people for jobs that don't exist yet. This grant is meant to build a program that doesn't exist anywhere else in the way we look to build it, which means we're ensuring that we keep teaching and working with a dynamic, unpredictable future always in mind."
Phillips notes that while the grant focuses on the humanities, it also will support continued collaboration with the science, technology, engineering, and mathematics fields, which has long been a prominent feature of a Lafayette education.