Lafayette will celebrate two major initiatives in global education this weekend. A dedication ceremony will be held for Grossman House, a special residence housing 25 students interested in global topics, 5:30 p.m. Friday, April 5. A groundbreaking ceremony for the Oechsle Center for Global Education will be held 12:30 p.m. Saturday, April 6.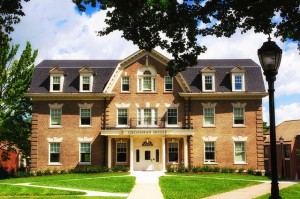 Grossman House, which opened on High Street at the beginning of this academic year, is named in honor of Richard A. Grossman '64 and his wife, Rissa Welt Grossman. The Oechsle Center for Global Education, made possible by the support of Walter Oechsle '57 and his wife, the late Christa Huber Oechsle, will be built along South College Drive south of Pardee Hall.
"Connecting the classroom to the world outside our walls is at the core of the College's mission," says Lafayette President Daniel H. Weiss. "These initiatives reflect our commitment to meet the needs of our students and graduates in a complex, rapidly changing world."
A signature three-story building modeling Lafayette's approach to education in the 21st century, the Oechsle Center will be a dynamic, collaborative learning environment and a hub of interdisciplinary interaction. It will house the International Affairs Program and the Department of Anthropology and Sociology and will be a key center of activity for area studies programs, including housing the Africana Studies Program. State-of-the-art instructional facilities will include a 60-seat lecture hall, two 40-seat classrooms, a conference room with videoconferencing capabilities, and other teaching and learning spaces with the flexibility to be used in various ways by faculty and students. The cost of the project will be approximately $10 million.
The College marked the creation of the Oechsle Center with an address by former Soviet president Mikhail Gorbachev in October 2011.
Read about Mikhail Gorbachev at Lafayette
See the commemorative publication (PDF)
A leading authority on international money management, Walter Oechsle is the retired managing general partner of Oechsle International Advisors, Boston. Prior to forming the firm in 1986, he was president and chief investment officer of Putnam International Advisors. Previously he was associated with Arnhold and S. Bleichroeder in New York. For five years, he authored "Overseas Commentary," a column on international investing, for Forbes magazine. In 1995, the Alumni Association presented him with its George Washington Kidd, Class of 1836, Award for career distinction.
A native of Germany, Oechsle majored in history at Lafayette, pursued graduate study in philosophy at the University of Pennsylvania, and earned an MBA in finance from New York University. He served as a Lafayette trustee from 1995 to 2004 and was elected an emeritus trustee in 2012. Christa Oechsle, a graduate of Hofstra University, taught foreign languages in U.S. public schools for a number of years.
A major contribution from the Oechsles enabled the College to transform the former Alumni Memorial Gymnasium into state-of-the-art facilities for the psychology and neuroscience programs. They also endowed a scholarship fund that benefits international students attending Lafayette. The William C. Rappolt '67 and Walter Oechsle '57 Neuroscience Prize, given annually to an outstanding senior, also bears his name. Sustaining members of the Marquis Society, the Oechsles were inducted into Lafayette's Société d'Honneur in 1997.
Grossman House contains both single and double-occupancy rooms and a large library on the first floor where residents and other members of the campus community can gather for special events and discussions. Built in 1915 by the Pennsylvania Sigma Deuteron Chapter of Phi Gamma Delta fraternity, the building was renovated in 2011-12 to serve as a residence hall.
In planning programs and to help promote increased intercultural understanding on campus, Grossman House residents work with other campus organizations to identify appropriate events and discussion themes. They receive guidance and support from faculty advisers who address global topics in their teaching and research, including Paul Barclay, associate professor of history; William Bissell, associate professor of anthropology; Robert Blunt, assistant professor of religious studies; Gisella Gisolo, director of international and off-campus education; Nandini Sikand, assistant professor of film and media studies; David Stifel, associate professor of economics and the chair of the International Affairs Program; and Angelika von Wahl, associate professor of international affairs.
Grossman House Provides Students With New Ways to Look at the World
Following a welcome by Edward W. Ahart '69, chair of the Board of Trustees, the dedication will feature remarks by Richard Grossman, Weiss, Stifel, and Grossman House resident Anh Nguyen '15, a philosophy major from Hanoi, Vietnam.
Richard Grossman majored in economics and business at Lafayette and earned his law degree at Harvard University. The president of Interstate Building Corporation in Tarrytown, N.Y., he has been an officer of Interstate Building and its affiliates, Gibraltar Management Company Inc. and Empire State Construction Corp., since 1969. He served as a Lafayette trustee from 1987 to 1997 and from 2002 to 2012 and was elected to emeritus status last May.
Rissa Grossman holds a B.A. from Lesley College and an M.A. from Columbia University. Sustaining Members of Lafayette's Marquis Society, the Grossmans were inducted into the Société d'Honneur in 2003. Previous gifts from the Grossmans have made possible the Grossman Gallery in the Williams Visual Arts Building and the Grossman Visiting Artist and Exhibition program. Their ties to the College include a daughter, Sharon Grossman Herzog '97.
The architect is Apicella+Bunton Architects LLC of New Haven, Conn. The construction manager is Miller, Miller & McLachlan Construction Inc. of Northampton, Pa.
http://news.lafayette.edu/2013/04/01/lafayette-celebrates-initiatives-in-global-education/